Running for Office – The Politics of Elections
This 3-in-l simulation begins with candidates deciding to run for office and ends with an election. Along the way your students do many of the activities common to political campaigns. The simulation is flexible. You can pick and choose which activities to do and how much time you want to spend.
Activities included are:

Audience forum
Polls
Media coverage
Fundraisers
Debate
Primary and general elections
Nominating convention
Creating and airing commercials
Social Media
GOTV

Student roles include:
Candidate
Campaign Strategist
Reporter
Pollster
Ad Cosultant/Graphic Artist
Finance Chair
Wordsmith
GOTV Specialist
Social Media Guru
Webmaster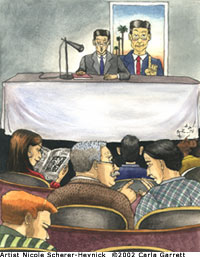 You can do a presidential, congressional or nonpartisan election campaign. Included with each campaign are a teacher's guide, student instructions, the necessary forms, activity timelines, and evaluation and assessment materials.
Table of Contents
Samples
Civics Standards
As a result of the 2012 census, the allocation of representatives and electoral college votes has been reapportioned to reflect population shifts and increases. Click here and here for updated electoral college pages (Tab #4).