Puttin' on the Robes – A Judicial Simulation
Trials: Everyone in your class has a part: juror, witness, lawyer, judge, bailiff, clerk, artist or newspaper reporter.
Appeals: Your students are either judges or attorneys. Attorneys write briefs and argue them before the court. The judges question the lawyers and then write opinions. Included are excerpts from 10 well-known cases and 10 mock criminal appeals (see link below).
USSC: Nine of your students play the actual supreme court justices. Your class gets to hear the oral arguments and watch the justices discuss the cases. Justices then render written opinions.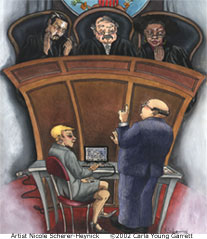 Forms, case materials and instructions are included. The trial materials include witness statements, step-by-step courtroom scripts, jury instructions, verdict and court forms. Appellate and USSC materials include sample briefs and opinions, as well as the forms. See also the Moot Court page for additional materials.